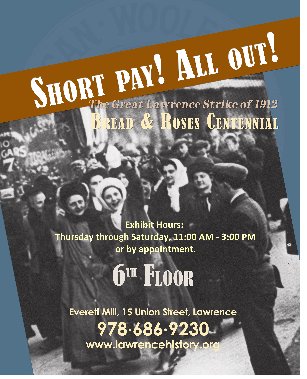 Monday, May 21, 7:00 pm
Join Us… Free & Open to the Public
Everett Mill 6th Floor, 15 Union Street, Lawrence, MA
Watch for more details!
If your family was in Lawrence in 1912, chances are they were affected by the Strike of 1912, Bread & Roses. Jim Beauchesne, Lawrence Heritage State Park Visitor Services Supervisor will discuss their role in the Strike that made headlines around the world and eventually came to a conclusion after Congressional hearings in Washington DC. We will be meeting in Short Pay! All Out ! the exhibit of the Lawrence History Center on the sixth floor of the Everett Mill. The Lewis Hine Project:Stories of Lawrence Children and the Maine Labor Mural Project will also be on display.
For information about the exhibit go to:
http://www.lawrencehistory.org/node/19077